Get in Touch for Driveway Cleaning in Surrey
Are you are looking for a professional, experienced, and highly reputable driveway and patio cleaning service? Look no further than Prestige Bin Cleaning - for driveway cleaning in Surrey we will not disappoint.
Here at Prestige Bin Cleaning, we pride ourselves on our value for money and reliable service. Make those pockets heavier by saving money with an option to pay on a yearly basis. Our pressure washing services can be performed on both residential and commercial properties, lifting moss, mould, and dirt to make your property clean and safe.
Driveway Cleaning - When do you need it?
Are any of the following getting unkempt and need a fresh lease of life?
Driveway
Decking
Patio
Pathway
Walls
When the above start to look grimy, we all know that the overall appearance of our residential or commercial property looks shabby. Prestige Bin Cleaning's driveway cleaning Surrey Service is seamless. Our expert team is on hand to deliver quality, deep cleaning each time, leaving a spotless finish you will be delighted with.
Oil, mould, moss, and dirt will erode concrete over time which will cause it to crack. A deep clean with Prestige Bin Cleaning will not only make everything look sparkly but also make it more sustainable extending its lifespan.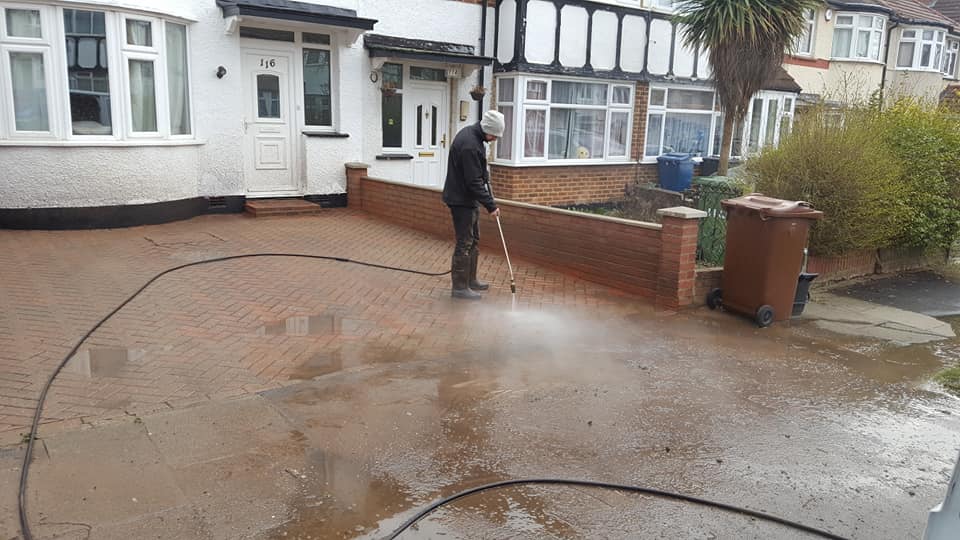 Driveway Cleaning Surrey - Why?
By the time you have trundled over to the shed to get out your jet wash, then unravelled the hose from the garage, you are half an hour into your Saturday and you've not even started the job yet.  Save yourself time and elbow grease by contacting Prestige Bin Cleaning driveway cleaning Surrey. Results aren't always as achievable when tackling deep cleans by yourself and this is where we step in and perform the seamless magic.
We use our high-pressure, deep cleaning pressure washing system which lifts the heaviest dirt and makes your patio and driveway look like brand new.
Do you have oil stains? Say goodbye to them with Prestige Bin Cleaning! We use industrial pressure washers – this means oil stains are history as they get broken up and lifted once and for all.
You want to keep Surrey looking fresh and tidy. Neighbours and friends will appreciate the well–ordered look of your property as it should positively reflect the area.
It keeps those pesky weeds at bay! Regular power washes will blast away any weeds and lift the dirt that weeds grow in.
WE ARE ECO FRIENDLY!!! Potent chemicals might be used in some drive and patio cleans around Surrey, these are very damaging to the environment. We pride ourselves at Prestige Bin Cleaning on using only bio-friendly cleaners and our methods always achieve amazing results.
Stop accidents from happening by having us restore the original texture of your surfaces. Clearing away the build-up of slippery dirt, oil, mould and mildew.