Commercial & Domestic Roof Cleaning Using Specialist Soft Washing System
Roof & Wall Cleaning Gallery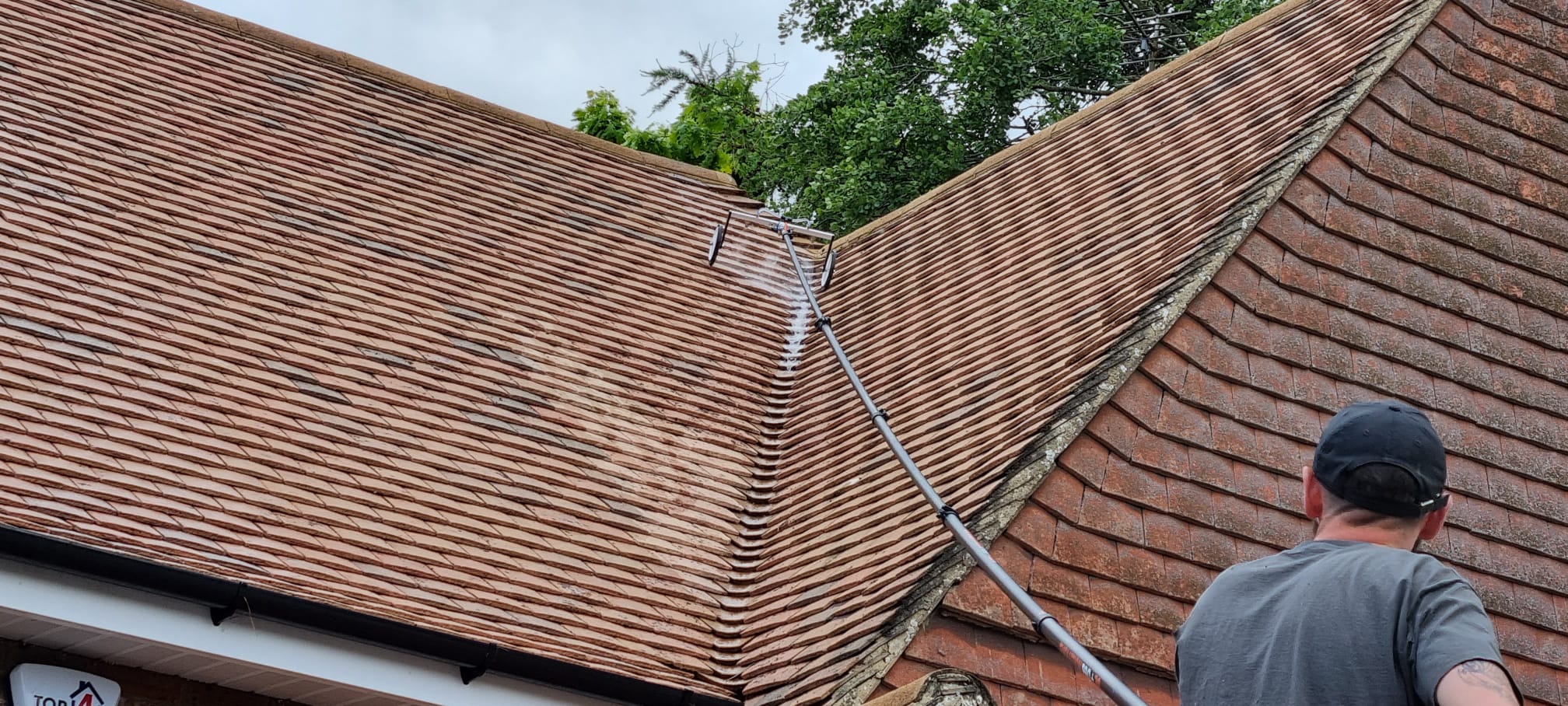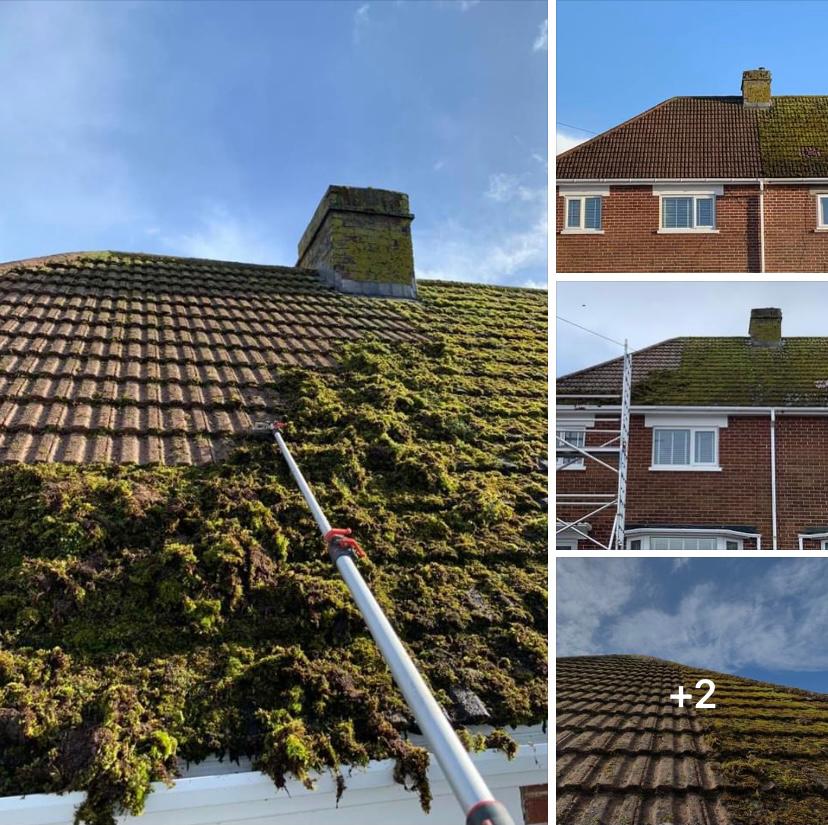 LEAVE IT TO PRESTIGE BIN CLEANING!
Soft wash roof cleaning is the application of chemicals to a roof while it is under low pressure. It serves as an alternative to roof pressure washing. One method of cleaning a roof is by carefully misting a biocidal wash, such as Bio Wash and softwash solutions. Any biofilm, including moss, algae, and lichen, will be destroyed by these biocide solutions.
Compared to other, more aggressive cleaning techniques, spraying biocides onto roofs carries a lower risk, but it doesn't remove heavy moss or soiling from the roof, so it is typically done after another method of cleaning the roof because it helps to ensure that any remaining roots are killed.
Soft Wash Roof Cleaning Benefits
Spraying a biocidal wash - controlled
Removing stains, moulds, moss, and algae
Improving the longevity of your roof
Spores and roots removed
Always restoring the aesthetic look of your roof
A roof matures with time, making it more vulnerable to weather damage and normal wear and tear. Every time we offer our roof cleaning services at prestige bin cleaning, we keep in mind that no two roofs are the same. For instance, before removing moss from roofs, we make sure the equipment we use won't damage the material of your roof.
Pressure cleaning can be the best option for a quick, dramatic adjustment to your roof's appearance. However, not all roof types are suitable for pressure washing, so seek professional advice before you risk causing irreparable harm.
However, this method is only advised for certain types of tiled roofs and also if the cement work is solid. Roof pressure can be applied via a variety of access techniques.
Additionally, we have industry-leading surface cleaning technology that enables us to clean the roof under high pressure while generating the least amount of mess possible.
Roof & Wall Cleaning Service
Professional roof cleaning services can help your roof look better while also removing moss and even extending the life of your roof.
We thoroughly inspect your roof and the type of tiles used in every roof cleaning service, and using our years of knowledge, we can tell you which cleaning technique is best for your roof and why.
We can handle jobs of any size! Our roof cleaning prices start from £250 for domestic homes. Enquire about scheduling a roof or wall cleaning service by pressing the button below!
Slate and clay roof tiles are two types of roof tiles that can be pressure washed. Some old concrete tiles should not be pressure washed because the surface may be damaged, making the tile more water absorbent and occasionally exposing a different colour of concrete underneath.
If your roof is in good structural shape, the pointing is solid, and there are no obvious water entrance sites like cracks or missing tiles, you can pressure wash it.
Every time we clean a roof, we inspect it to determine its condition and the type of tiles it has. Then, we advise our clients on the best method for restoring their roof, which may involve pressure washing, soft washing, steam cleaning, or occasionally just clearing away the moss and applying a biocidal wash to help keep the roof clean and moss-free for longer.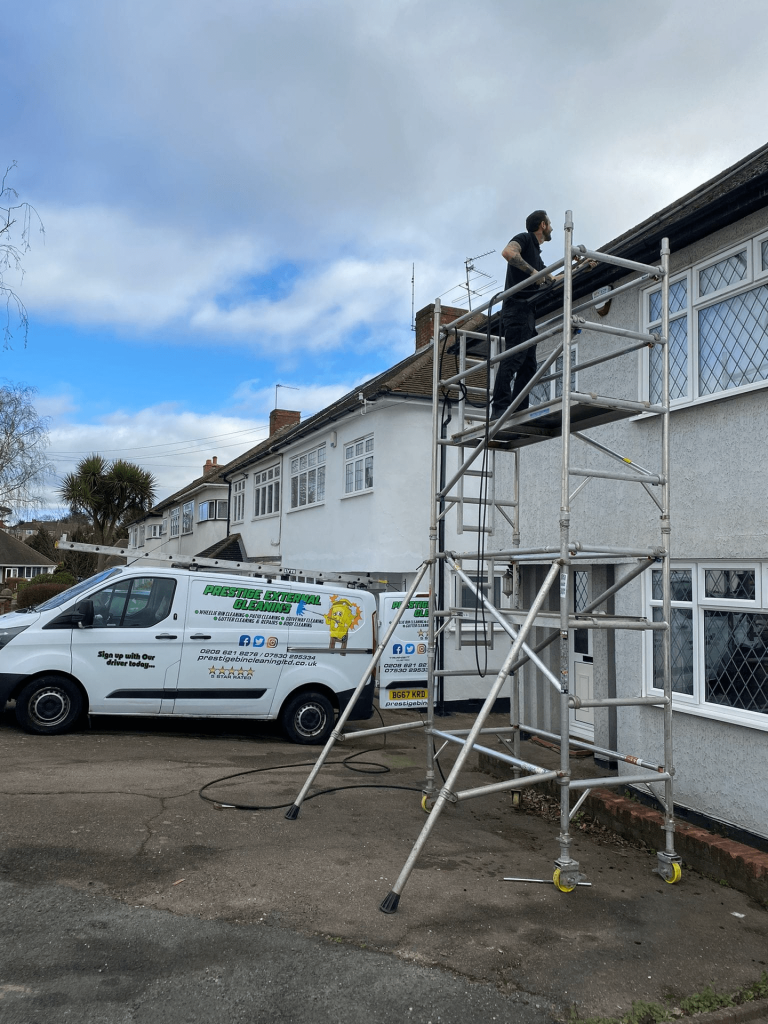 Please take a picture of the front and rear of your house, then send the picture to the WhatsApp number above, or fill out the form below.