Are you looking for commercial or domestic bin cleaning services in or around London?
Prestige Bin Cleaning provides exceptional London bin cleaning services for both domestic and commercial properties. We have received more 5 star reviews than any other company in and around the London area.
Reasons to choose Prestige for your London bin cleaning service.
At Prestige Bin Cleaning we have all of the tools and expertise to provide amazing results for your London bin clean.  We provide you with an array of bin cleaning services, removing all dirt and grime from domestic and commercial bins and ensure your bin stores are maintained to a hygienic level whilst portraying a positive impression about your business.   
We are incredibly proud of what we do with glowing reviews from our customers and pride ourselves on our customer service. 
CCTV Monitoring - The only wheelie bin cleaning business out there, who operate this system for quality control & customer peace of mind.
Insured Company – Fully insured public and employee liability
Professional Teams – Staff professionally trained
No mess – Bins are cleaned in self-contained units. No mess, no fuss
Top reviews – The most 5 star reviews in the local area
Full Records – We leave a paper trail after each clean
Guarantee – All work is fully guaranteed
Bin stores can get just as filthy and dirty as the bins themselves and can certainly make a bin store an extremely unpleasant place.  As part of our London bin cleaning service, your bin stores will be swept, all rubbish removed and we then employ a high-pressure water system and biodegradable cleaning solutions to clean the bin store. The bin stores are left clean, disinfected and deodorised leaving a fresh, pleasant smell. Make your bin store a place where you would not mind popping into to dispose of your rubbish.
Our exclusive domestic London bin cleaning offers exceptional service and value for money.  Your bins will be cleaned every 4 weeks by our fully trained professional staff using specialist wheelie bin cleaning equipment & Environment Agency-approved bio-degradable chemicals. We will wash, deodorise and sanitise your bins inside and out the day your bins are emptied.  All cleaned bins come with your own Prestige Bin cleaning sticker with your door number to avoid any confusion with neighbours bins.
Our exclusive commercial London bin cleaning service is competitively priced with prices starting at just £15 for a regular bin clean or £20 for a one-off clean.  Our commercial London bin cleaning service ensures your bins remain clean and fresh all year round, helping you avoid pests and adhere to health and safety protocols.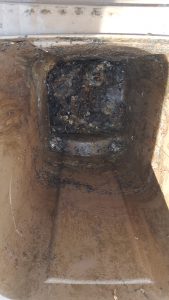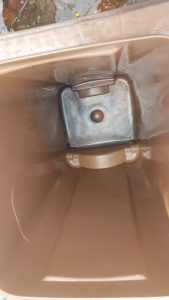 In addition to our London bin cleaning we also provide an array of Pressure Washing Services for your driveways and patios, and High-Quality Gutter Cleaning!
For more information or to book your London bin cleaning service contact us here.